Ex-Redflex CEO Karen Finley Sentenced to 30 Months in Speed-Camera Bribery Scheme

Nov 17, 2016 | Phoenix New Times | Article
Excerpts:
A federal judge sentenced former Redflex CEO Karen Finley to 30 months in prison last week for her role in a bribery scheme to win photo-enforcement contracts in Chicago.
U.S. District Judge Virginia Kendall also ordered Finley to pay $2 million in restitution, telling the 57-year-old Arizonan "there is no sense of corporate social responsibility there" and that the case had significant impact on the public.
Suit against Gretna, Redflex over traffic camera tickets seeks class-action status

Apr 26, 2016 | The Advocate | Article
Excerpts:
A Monroe law firm has filed a lawsuit in state district court in Jefferson Parish seeking class-action status against the city of Gretna and Arizona-based Redflex Traffic Systems Inc.
The suit claims the city's use of an automated camera system to issue traffic tickets and the hearings at which cited motorists can challenge their tickets are both illegal.
Red light camera settlement proposed

Mar 21, 2016 | Albuquerque Journal | Article
Excerpts:
ALBUQUERQUE, N.M. — Tens of thousands of people would be eligible for about $200 each under a proposed settlement with the company that once ran Albuquerque's old red light camera system.
Redflex Traffic Systems Inc. and four other companies have reached a tentative settlement of $3.5 million in a class-action lawsuit over "robocall" collection tactics, according to documents filed in the case.
Redflex Admits Corporate Bribery Chicago, Illinois Lawsuit

Feb 25, 2016 | TheNewspaper.com | Article
Excerpts:
Lawyers for Redflex Traffic Systems provided the first look at how they intend to respond to the looming $383 million red light camera lawsuit filed against it by Chicago, Illinois. The Windy City insists Redflex violated the municipal ethics code by lying in documents filed with the city. Judge John J. Tharp Jr on Tuesday granted Redflex permission to expand on its counterargument.
The new Redflex strategy is to deny that its Australian headquarters, Redflex Holdings Limited, had any idea what its US subsidiary, Redflex Traffic Systems Inc, was doing.
Redflex is also asking the judge to throw out the potential multi-million-dollar fine as a violation of the Eighth Amendment protection against excessive damages because Chicago profited from the corruption.
Australian Federal Police probe Redflex over red light camera bribes in Chicago

Feb 1, 2016 | Chicago Tribune | Article
Excerpts:
The Australian parent company of Chicago's former red light camera company is under investigation by Australia's Federal Police for the role its former employees played in the $2 million bribery scheme that brought red light cameras to Chicago and catapulted the company to a world leader in automated traffic enforcement.
Chicago expands lawsuit against former red-light camera contractor

Dec 15, 2015 | Daily Herald | Article
Excerpts:
The city of Chicago on Monday expanded its lawsuit against Redflex Traffic Systems to include the former red-light camera contractor's parent company.
The amended suit was filed Monday in federal court and added Redflex Holdings Ltd. as a defendant. The city said violations of the False Claims and False Statements ordinances prompted the filing.
Court documents: A second Redflex executive pleaded guilty in bribery conspiracy

Oct 16, 2015 | The Columbus Dispatch | Article
Excerpts:
Newly unsealed court documents show that a former sales executive for red-light-camera company Redflex pleaded guilty in 2014 to conspiring to bribe elected officials in Columbus to obtain and retain contracts here.
Aaron M. Rosenberg, the former executive vice president of sales at Redflex, pleaded guilty to making — and hiding — campaign donations to influence city officials from 2005, when the city's original red-light contract started, through 2013. He served a year on probation as part of a federal diversion program in which he promised to help federal prosecutors.
Lobbyist agrees to plead guilty in traffic-cameras scandal

Oct 2, 2015 | Washington Times | Article
Excerpts:
COLUMBUS, Ohio (AP) - An Ohio lobbyist has agreed to plead guilty to extortion in a scandal involving the bribery of Columbus public officials by a traffic-camera company trying to keep its contracts with the city.
Chicago sues [Redflex] for $300 million

Aug 20, 2015 | Chicago Tribune | Article
Excerpts:
Mayor Rahm Emanuel's administration has sued Chicago's former red light camera operator, Redflex Traffic Systems, for more than $300 million on grounds the entire program was built on a $2 million bribery scheme at City Hall that has already led to federal corruption convictions.
The embattled program, which has raised more than $500 million in traffic fines since it began in 2003, has been beset with oversight failures, unfair ticketing practices and corruption allegations exposed by a series of Tribune investigations that began three years ago. Redflex's former chief executive Karen Finley pleaded guilty Aug. 20 in a conspiracy to bribe a former top city transportation executive who she says helped steer the contract to the company.
Former Redflex CEO Pleads Guilty to Corruption in Awarding of City of Chicago's Red-Light Camera Contract

Aug 20, 2015 | FBI.gov | Article
Excerpts:
CHICAGO—The former chief executive officer of Chicago's first red-light camera vendor pleaded guilty to a federal bribery charge Thursday.
As the CEO of Redflex Traffic Systems Inc., KAREN FINLEY funneled cash and other personal financial benefits to a City of Chicago official and his friend, knowing that the payments would help persuade the city to award red-light camera contracts to Redflex, according to a plea agreement. The benefits included golf trips, hotels and meals, as well as hiring the city official's friend as a highly compensated contractor for Redflex, according to the plea agreement.
Whistleblower: Redflex Had History Of Bribing Govt. Officials

Jun 19, 2015 | 10tv.com | Article
Excerpts:
COLUMBUS, Ohio - At the heart of the Columbus bribery scandal is Karen Finley the former CEO and President of Redflex cameras. According to a federal complaint, Finley greased the wheels with more than $80,000 in campaign contributions to Columbus officials in 2011.
When the scheme was exposed in 2014, a whistleblower inside the company told the Chicago Tribune the payoffs were part of "a long-standing practice of providing government officials with lavish gifts and bribes."
City Council President Andrew Ginther caught up in red-light camera bribe case

Jun 20, 2015 | Columbus Dispatch | Article
Excerpts:
A former chief executive officer of the red-light camera company Redflex has pleaded guilty to bribing Columbus elected officials — including Columbus City Council President Andrew Ginther — through the Ohio Democratic Party to install the cameras and keep them operating in the city.
Records from the U.S. District Court in Columbus show that from 2005 to 2013 , Finley made campaign contributions to elected public officials in Columbus and Cincinnati. The cameras were installed in Columbus in 2006 but were turned off in March after state law limited their use.
Former CEO of red-light camera firm expected to plead guilty in bribery case

Jun 8, 2015 | NOLA.com | Article
Excerpts:
The former boss of the company at the heart of Chicago's red-light camera bribery scandal could plead guilty in August.
U.S. District Judge Virginia Kendall scheduled an Aug. 11 hearing for Karen Finley, the former CEO of Redflex Traffic Systems, to change her plea to the fraud and bribery charges leveled against her last year. The judge did so Monday at the request of Finley's attorney, Michael Monico.
Red-light camera lawsuits against Jefferson Parish, Redflex reinstated by appeals court

Feb 27, 2015 | NOLA.com | Article
Excerpts:
The battle over red-light camera fines in Jefferson Parish is headed back to district court, after appellate judges reversed decisions throwing out ticketed drivers' lawsuits against the parish and Redflex Traffic Systems.
The ruling, by a 5th Circuit Court of Appeal panel, raised questions about the parish's liability and Redflex's role in handling violations.
California Appeal Court Finds Red Light Cameras Unreliable

Feb 12, 2015 | TheNewspaper.com | Article
Excerpts:
One of California's largest providers of red light camera systems believes a recent Court of Appeal decision spells trouble for the industry. The state's second-highest court found that proof of improper calibration was enough to cast doubt on an automated ticketing machine's reliability. Redflex Traffic Systems of Australia asked the state Supreme Court to "depublish" the California v. Rekte decision, effectively erasing it from the books.
California Appeal Court Finds Red Light Cameras Unreliable

Jan 12, 2015 | TheNewspaper.com | Article
Excerpts:
Legal controversy continues to dog California's automated enforcement programs, despite the best effort of state lawmakers to encourage photo ticketing. The second-highest court in California decided Thursday that the red light camera program in Riverside "did not produce reliable evidence" in rejecting the $500 citation that Redflex, a private, for-profit vendor, had mailed to Viktors Andris Rekte.
Red light camera company failed to pay JC property tax in 2012

Dec 17, 2014 | WJHL | Article
Excerpts:
JOHNSON CITY, TN (WJHL) - A company that makes big bucks off of drivers' mistakes made a pretty big mistake of its own, according to Johnson City delinquent tax records.
According to those public records, Redflex Traffic Systems, the company that owns the city's red light cameras, owes back taxes.
Red-light camera contractor spent thousands on meals for Sacramento County and CHP employees

Sep 21, 2014 | Sacramento Bee | Article
Excerpts:
Sacramento County sheriff's deputies and California Highway Patrol officers accepted free meals worth thousands of dollars from the private company that operates the county's red-light intersection cameras, then recommended the county choose that company over several competitors for a new red-light contract worth up to $11.8 million, a Sacramento Bee review has found.
Redflex has operated Sacramento's cameras since it won its initial county contract in 2008. The free meals began a few months before Redflex won that contract, documents show. They continued while the company worked for the county and as it prepared to bid on a contract renewal that was eventually awarded in December 2013.
Representatives of the companies that placed second and third said their companies did not provide meals to county or CHP employees. The fourth-place finisher could not be reached.
California: Red Light Camera Companies Ignore Reporting Law

Aug 25, 2014 | TheNewspaper.com | Article
Excerpts:
Red light camera companies have been ignoring new reporting requirements set by California law, and the judiciary has overlooked the ongoing violation. In 2012, the state legislature adopted a measure that was supposed to "make sure that drivers' rights are protected." Among other things, it required camera vendors to file an annual report with the state Judicial Council listing the number of violations captured; the number of citations issued with a breakdown of how many were right-hand turns; the percentage of tickets tossed out by the court; and the number of collisions before and after camera installation.
Word of the Highwayrobbery.net request spread, and Redflex Traffic Systems, with its former executives under indictment for corruption, decided belatedly to send in reports on August 12. The Australian firm runs more of the camera programs in the Golden State than any of its competitors, including American Traffic Solutions, which has not complied with the statute.
Edison red light camera operator settling lawsuit

May 3, 2014 | My Central Jersey | Article
Excerpts:
Drivers busted by red light cameras in Edison and four other towns before August 2012 could get a partial refund of their tickets under a proposed legal settlement.
Lawyers for plaintiffs filed court papers in U.S. District court in Trenton on Friday outlining a settlement with Phoenix-based Redflex Traffic Systems Inc.
Labor Department Investigates Redflex Over Trade Violation

Apr 15, 2014 | TheNewspaper.com | Article
Excerpts:
Is Redflex Traffic Systems outsourcing US engineering jobs for cheaper Australian labor? That is the question the US Department of Labor is now investigating, adding to the numerous inquiries into the Melbourne, Australia-based firm's business practices. The second largest provider of photo enforcement services in the United States was recently caught violating labor laws in California. It is the subject of a massive federal bribery investigation and charges of racial bias. Redflex was even fined by the Federal Communications Commission in 2008 for illegally importing uncertified radar units.
San Rafael's red-light camera company nabbed by state for not paying prevailing wage

Mar 11, 2014 | Marin News | Article
Excerpts:
San Rafael's red-light cameras may be dark, but the city's relationship with the provider isn't over.
The city has been instructed by the state to withhold nearly $25,000 in payments to Redflex Traffic Systems Inc. of Phoenix, which serviced the city's two cameras, because the company failed to pay its contractors prevailing wage when the equipment was installed in October 2009. Prevailing wage is the basic hourly rate paid to public works project employees as set by the state, ensuring contractors aren't awarded projects based on paying lower wages than a competitor.
[Redflex] Red light camera randomly flashing now fixed

Feb 28, 2014 | Springfield News-Sun | Article
Excerpts:
SPRINGFIELD — A red-light camera North Street and Bechtle Avenue that was randomly flashing this week was fixed Friday afternoon.
"I'm sitting stopped at the light. The light turns green and then all of a sudden, the red-light camera's flash starts going off. It hit four cars going through a green light," Springfield resident Chris Kitt said.
Redflex, the company that owns and manages the cameras, sent an employee to fix the problem shortly after the Springfield News-Sun contacted the Springfield Police Division about the issue.
Editor's Note: Redflex only responded after the newspaper contacted the police. Redflex apparently had no idea it was malfunctioning.
Redflex Faces Employment Discrimination Lawsuit

Feb 7, 2014 | TheNewspaper.com | Article
Excerpts:
Redflex Traffic Systems is in the news for the alleged use of bribes to land contracts in a scandal that has spread to a dozen states. The firm's woes have taken a toll in the form of lost contracts, including that of Chicago, Illinois, cutting business by 25 percent of its business. The company is also defending against an ongoing employment lawsuit claiming the Redflex office in the US harbors anti-Australian bias.
In July, US Magistrate Judge Norah McCann King refused the efforts of Redflex to have the lawsuit thrown out on grounds of futility. Redflex is based in Melbourne, Australia, but Catherine Petzel, a salesman fired in 2012, charges the same individuals at the heart of the bribery scandal -- US operations chief Karen Finley, and Executive Vice President Aaron M. Rosenberg -- with anti-Australian and anti-woman bias, respectively.
Dead man's mother harassed by red light ticket company [Redflex]

Feb 4, 2014 | KOB | Article
Excerpts:
An Albuquerque mother contacted 4 On Your Side after she said lawyers for Redflex reopened an emotional wound.
Marcella Baca, and her husband David Crosby, received notifications in the mail that Baca owed more than $500 on unpaid red light tickets from 2008 and 2009.
30-year-old Charles Baca died in 2012.
RMS to monitor Wagga speed camera operators [Redflex]

Jan 8, 2014 | Daily Advertiser | Article
Excerpts:
Those behind the wheel were put on notice at a meeting between Roads and Maritime Services (RMS) and representatives from Redflex - the company contracted to carry out speed compliance operations until 2016 - today.
An RMS spokeswoman said the meeting was prompted by concerns raised by Wagga residents about the placement of enforcement vehicles.
"Disregard of compliance standards, which are in place to protect the mobile speed camera operator as well as other road users, will not be tolerated," the spokeswoman said.
[Redflex] Lawsuit: Red light collection calls illegal

Jan 2, 2014 | KRQE.com | Article
Excerpts:
According to a federal class action lawsuit, David Willett received about 19 robocalls from Creditwatch on his cellphone between February and June 2013. Amber Fosse says she received seven such calls on her cellphone in the span of two months.
But attorney Rob Treinen says those pre-recorded messages violated the Telephone Consumer Protection Act, or TCPA, because Creditwatch called cellphones and neither Willett nor Fosse gave the debt collection company consent to make the calls.
Fines for violating the TCPA are a minimum of $500 per call, although that fine could be larger if a court finds the violations were willful. That means the punishment could be much larger than the $100 tickets Redflex and Creditwatch were trying to collect on.
Redflex caught breaching speed camera rules

Nov 12, 2013 | The Daily Advertiser | Article
Excerpts:
ROADS and Maritime Services (RMS) will investigate why mobile speed camera advisory signs on the Sturt Highway were not upright between Gumly and Forest Hill at the weekend.
Photographs obtained by The Daily Advertiser show the 250-metre and 50-metre warning signs were lying on the side of the highway and not visible to drivers heading east at 11.25am on Saturday.
It is the latest breach of the government's speed camera strategy regulations by private operator Redflex in the Wagga area during the past 12 months.
In February, Roads Minister Duncan Gay admitted Redflex had committed "entrapment" when illegally conducting speed camera patrols on a city street.
Last month, the speed camera operator came under scrutiny after its vehicle parked in long, dry grass, potentially posing a bushfire risk to road users and nearby landholders.
Small refunds in red-light-camera settlement

Aug 9, 2013 | Philly.com | Article
Excerpts:

Some drivers caught by red-light cameras in Cherry Hill, Stratford, and three other municipalities will get small refunds from the cameras' operator under a tentative $2.1 million settlement announced Wednesday.
The money, to be paid by Redflex Traffic Systems of Phoenix, will be divided among about 260,000 drivers and their lawyers.
The drivers in both lawsuits claimed that the cameras had not been properly inspected to assure that they were operating as the law required.
Franz Kafka Heroes Challenge Traffic Tickets [Redflex and City Sued For Illegal Program]

May 14, 2013 | CourtHouseNews.com | Article
Excerpts:

BIRMINGHAM, Ala. (CN) - A class action claims the City of Center Point and Redflex Traffic Systems illegally ticket drivers by threatening them with a court appearance if they refuse to pay fines, though "no such court exists."
Ohio judge calls speed cameras 'scam'

Mar 7, 2013 | WDTN | Article
Excerpts:
HAMILTON, Ohio (WDTN) - A Hamilton judge ordered a small village to stop a speeding ticket blitz after the installation of traffic light cameras.
Judge Robert Ruehlman ruled Thursday that Elmwood Place is running what he called a scam against motorists. The village began using the cameras in September. It resulted in 6,600 speeding citations in the first month at $105 a pop.
3 more Redflex execs out as fallout continues for city's red light camera firm

Mar 2, 2013 | Chicago Tribune | Article
Excerpts:
The president, chief financial officer and top lawyer for Chicago's red light camera company resigned this week amid an escalating corruption scandal that has cost Redflex Traffic Systems Inc. its lucrative, decadelong relationship with the city.
The resignations came as Redflex said it was winding down a company-funded probe into allegations of an improper relationship between the company and the former city transportation manager who oversaw its contract until 2011, a relationship first disclosed by the Tribune in October. A longtime friend of that city manager was hired by Redflex for a high-paid consulting deal.
Red-light camera firm fires VP, sues him over Chicago scandal

Feb 22, 2013 | Chicago Tribune | Article
Excerpts:
Embattled red-light camera vendor Redflex Traffic Systems Inc. fired its executive vice president Wednesday and accused him of misconduct involving the company's scandal-plagued Chicago contract.
Reeling from the crippling loss of that contract and the expanding corruption investigation, Arizona-based Redflex filed a lawsuit against the former top executive that lays much of the blame for the company's troubles on his "dishonest and unethical conduct" over a number of years.
City dropping red-light camera firm as probe heats up

Feb 8, 2013 | Chicago Tribune | Article
Excerpts:
Mayor Rahm Emanuel announced today he will axe the city's embattled red-light camera vendor when its contract expires in July, citing new investigative findings that the company gave thousands of dollars in free trips to the former city official who oversaw the decade-long program.
Emanuel announced the action against Redflex Traffic Systems Inc. following the Chicago Tribune's report today that the chairman of Redflex's Australian parent company resigned this week and trading in the company's stock was suspended amid an intensifying investigation into allegations of corruption in its Chicago contract.
Louisiana: Redflex Appeals Court Loss In Lawsuit Against Sheriff

Jan 24, 2013 | TheNewspaper.com | Article
Excerpts:
Redflex Traffic Systems is appealing its failed effort to sue a former red light camera client for $8 million in federal court. Redflex last week asked the Fifth US Circuit Court of Appeals to overturn Judge Eldon Fallon's December 20 ruling that dismissed the company's demand that Jefferson Parish, Louisiana Sheriff Newell Normand pay up.
Automated ticketing firms have a history of taking their claims to federal courts, sometimes even forum shopping to exploit personal connections for a favorable decision. Here the standard tactics backfired, as Judge Fallon refused to allow the Australian company to argue Jefferson Parish and Sheriff Normand violated their automated ticketing contract.
Louisiana: Redflex Appeals Court Loss In Lawsuit Against Sheriff

Jan 9, 2013 | TheNewspaper.com | Article
Excerpts:
A former red light camera company sales manager is suing Redflex Traffic Systems claiming she was fired for having an Australian accent. Catherine Petzel was responsible for convincing small towns in the Ohio region to embrace the use of automated ticketing machines. Her plight is rather unusual, considering Redflex is based in Melbourne, Australia though its US operations are handled in Phoenix, Arizona under the direction of Redflex board member Karen Finley.
Traffic Camera Firm Countersues Traffic Camera Firm [Redflex] Over Patent

Nov 20, 2012 | TheNewspaper.com | Article
Excerpts:
Upstart photo enforcement firm B&W Sensors last week asked a federal judge in Missouri to throw out video speed detection patents recently granted to American Traffic Solutions (ATS). The legal move is designed to undermine the lawsuit ATS had filed against B&W last month before a federal judge in Texas.
"All of the claims of the '685 Patent are invalid, void and/or unenforceable for failure to comply with the requirements of the patent laws of the United States," attorney Douglas E. Warren wrote on behalf of B&W Sensors. "B&W respectfully prays that the court enter judgment in its favor and award the following relief against ATS: ...Permanently enjoin ATS and its officers, directors, agents, servants, employees and attorneys, and any and all persons in active concert or participation with any of them, from asserting, stating, implying or suggesting that B&W and/or any of its respective officers, directors, agents, servants, employees, subsidiaries or customers, infringe any of the claims of U.S. Patent No. 8,213,685."
B&W separately argued that the US District Court for the Eastern District of Texas lacks jurisdiction over the case. The company is based in Missouri and has never conducted any business in the Lone Star State other than paying the Texas Transportation Institute to test the firm's video speed detection unit in 2010.
Redflex In Turmoil Over Shareholder Revolt, Ethics Investigation

Nov 15, 2012 | TheNewspaper.com | Article
Excerpts:
Australian investors angry at the recent performance of Redflex Traffic Systems let management know by issuing a "first strike" Wednesday against the photo enforcement firm's compensation plan. Under recently implemented Australian Securities Exchange (ASX) rules, a company receives a strike if its remuneration report does not receive the support of 75 percent of shareholder votes.
At the Redflex annual meeting in Melbourne yesterday, the compensation report received 61.8 percent of the vote, with significant protest against the re-election of Max Findlay to the board of directors and to the compensation of Karen Finley, who is in charge of US operations. Finley's award of $142,187 in stock options was approved, but the generous payment could become a liability next year.
Mystery speeding ticket: Does the [Redflex] camera lie?

Nov 7, 2012 | Sioux City Journal | Article
Excerpts:
SIOUX CITY | An Oregon man who got a speeding ticket after his rental car was snapped by a traffic camera on Interstate 29 in Sioux City claims he was hundreds of miles away at the time and has witnesses and documents to prove it.
Ken Benkstein thinks the only logical explanation for his $168 ticket is that the camera equipment malfunctioned, recording the date incorrectly when a different customer had the car.
Louisiana: Traffic Camera Company Sues Client Over Cash

Oct 26, 2012 | TheNewspaper.com | Article
Excerpts:
The sheriff of Jefferson Parish, Louisiana petitioned a federal judge last week for more time to answer the charges leveled by a red light camera company. Redflex Traffic Systems in August had filed suit demanding Sheriff Newell Normand hand the Australian firm a check for $8 million.
Redflex is irate that its photo ticketing contract was swept up in a parish government corruption scandal two years ago. A new set of government leaders intent on cleaning up the parish decided on January 27, 2010 to suspend the red light camera program. Officials were most concerned about documents that showed Redflex paid a 3.2 percent cut of the firm's profit on each ticket to lobbyist Bryan Wagner, a former New Orleans city councilman, who in turn shared the funds with the wife of District Judge Robert Murphy. Wagner was set to earn an estimated $90,000 a year from this deal. Jay Morris Specter, the lobbyist who hired Wagner on behalf of Redflex, was released from federal prison on October 21, 2010 after serving time on unrelated fraud charges.
City axes [Redflex's] bid, citing delay in reporting ethics case

Oct 17, 2012 | Chicago Tribune | Article
Excerpts:
Accusing Chicago's red-light camera vendor of covering up a 2-year-old breach of ethics until a Tribune investigation brought it to light, Mayor Rahm Emanuel's office on Tuesday threw out the company's bid for a lucrative new speed camera contract.
The city also raised serious doubts about the future of Redflex Traffic Systems Inc.'s role as the longtime operator of Chicago's red-light camera program that since 2003 has generated some $300 million in fines for the city and $97 million in revenue for the publicly traded company, according to city records.
Texas: Red Light Camera Firm Sues [League City, TX] to Block Public Vote

Aug 27, 2012 | TheNewspaper.com | Article
Excerpts:
A traffic camera company on Thursday filed suit in a Galveston County, Texas courthouse to prevent voters from having a say in whether automated ticketing machines are used in League City. Following a well-established pattern, Redflex Traffic Systems, which wants the camera program to survive, filed suit against the city asking the court to block officials from going ahead with the initiative on the November 6 ballot. City officials also support the cameras.
NY commission says 11 to pay lobbying fines

Aug 10, 2012 | WallStreet Journal | Article
Excerpts:
ALBANY, N.Y. — New York's Joint Commission on Public Ethics says it's reached agreements with 11 entities to pay a total of more than $20,000 in fines to settle allegations they failed to file required lobbying disclosure reports.
Others are The Leser Group, $2,500; Govdelivery, Inc., $2,500; Redflex Traffic Systems, $1,500; O'Connor Capital Partners, $2,500; McCarton Foundation, $1,000; and NYS Coalition Against Domestic Violence, $1,500.
Addtional Article:
Article
Excerpts:
"The respondent admits that it violated Section 1-j of the lobbying act as set forth herein and agrees to pay the commission the amount of $1500 in settlement of said violation within 15 days of the execution of this agreement," the settlement signed by Redflex explained. "The respondent further agrees to submit the accurately completed 2010 January/June client semi-annual report within 15 days of its execution of this agreement."
Redflex has been paying Empire Advocates lobbyist Joseph Rossi to "promote, advance, advocate and market Redflex and its products and services" to government officials and public agencies, according to Rossi's contract with the Australian firm. It also retains the Wladis Law Firm. Disclosures identify the Utica police department, Utica mayor's office, Kingston police department, Suffolk County, the New York City government, Rochester and Buffalo as targets of the lobbying campaign.
Jefferson Parish's stop-light camera bill put at $7.3 million and growing

Jul 22, 2012 | BayouBuzz.com | Article
Excerpts:
Moving "more aggressively," Redflex Traffic Systems Inc. changed lawyers and sent Jefferson Parish a bill last week for its suspended stop-light camera program. Bottom line: $7.3 million.
Redflex Doesn't Know If Their Cameras Are Working

May 31, 2012 | PhotoRadarScam.com | Article
Excerpts:
Redflex made a statement that "the disruption in service for the traffic safety camera at the intersection of (West) State of Franklin (Road) and (West) Walnut Street occurred either late on May 22 or early on May 23." I find it troubling and disturbing that Redflex has no idea when the cameras stopped working. And if that is the case, they also have no idea when the cameras are working properly either. But despite this fact, Redflex sends its employees and law enforcement officers into traffic hearings all day everyday to testify that they somehow know first hand that the evidence before them was taken from a functional system, even though – as we now have proof – they have not way of actually knowing this to be the case.
[Redflex and] City sued over red light/speed tickets

May 17, 2012 | WDTN.com | Article
Excerpts:
DAYTON, Ohio (WDTN) - A Dayton law firm filed a class action lawsuit Thursday connected to red light and speed cameras.
Dyer, Garafalo, Mann and Schultz filed on behalf of three clients who had their cars towed and impounded for failure to pay camera issued violations.
The law firm claims their clients were deprived of due process and the protections normally afforded to people cited for traffic offenses.
The lawsuit names the City of Dayton and Red Flex Traffic Systems, Inc.
Wrongful ticket prompts review of Cary red-light cameras

Apr 14, 2012 | The Cary News | Article
Excerpts:
CARY - A stoplight camera malfunction has spurred Cary to review some traffic tickets. Video evidence shows a camera issued a ticket for a driver making a legal turn on a flashing yellow light, according to police.
A chief question for the town, he said, is why Redflex didn't catch the erroneous ticket. The international company is obligated to have each ticket reviewed by at least three people, Godwin said.
City hit with big bill from Redflex

Feb 28, 2012 | KRQE.com | Article
Excerpts:
ALBUQUERQUE, N.M. (KRQE) - The company that owned and operated Albuquerque's red light cameras just hit the city with a bill for $4.5 million.
The city is disputing Redflex's $4.5-million claim.
[Class Action] Lawsuit filed against [Redflex], Victorville

Feb 20, 2012 | The Sun | Article
Excerpts:
A class-action lawsuit against Victorville and its red-light camera program alleges vehicle owners' due-process rights were violated and seeks millions of dollars in damages.
Barstow lawyer Robert Conaway filed the lawsuit on Feb. 14 in Victorville Superior Court on behalf of his client, Michael Curran, and others who received red-light tickets in Victorville from Phoenix-based Redflex Traffic Systems, according to court records.
The suit alleges misdemeanors and infractions have always been violations that must have occurred in an officer's presence and not making that a requirement violates the California Penal Code.
Class-action suit brewing over red-light cameras

Jan 9, 2012 | SCPR.org | Article
Excerpts:
The city of Victorville faces a potential $9 million class action lawsuit unless it changes the way it uses red-light cameras. The people who want to sue also targeted the company that installed the camera system.
Redflex sues Farragut over new traffic camera law

Sep 29, 2011 | KnoxNews.com | Article
Excerpts:
Redflex Traffic Systems Inc. on Monday filed suit against the town of Farragut and claims that without court intervention, hundreds of traffic violations will continue to go unprosecuted, which will affect traffic safety and deprive Farragut and the company of revenue that was agreed on in a contract between the two.
Ethics Complaint Filed Against Red-Light Camera Contractor [Redflex]

Sep 29, 2011 | KOAT.com | Article
Excerpts:
ALBUQUERQUE, N.M. -- One City Council member said an election group in support of Albuquerque's red-light cameras is blatantly violating the law.
City Council Member Dan Lewis filed a formal complaint with the city clerk's office. Lewis said it's high time the public knows who is behind the campaign to keep the cameras turned on.
Lewis said RedFlex, the operator of Albuquerque's red-light cameras, donated $90,000 to Safe Roads ABQ – a measure finance committee aimed at keeping the cameras on.
Computer glitch causes red-light camera fine error

Sep 23, 2011 | Sioux City Journal | Article
Excerpts:
SIOUX CITY - Jim Thomas was certain that he paid his $195 fine for running a red light in October 2010 at one of the city's eight intersections monitored by Redflex cameras.
Capt. Melvin Williams said Thursday that 74 people, whose violations were transferred to the court system, received the notices due to a computer glitch.
Class-action suit against Jefferson Parish redlight cameras sends notices to those who paid fines

Sep 9, 2011 | NOLA.com | Article
Excerpts:
Drivers who ran afoul of Jefferson Parish's red-light camera system are receiving some news in the mail this week: a notice that the class-action lawsuit seeking to recoup the fines they paid is moving forward.
The notices were sent to about 145,000 people in the two-year-old suit against Redflex Traffic Systems, the Phoenix, Ariz., company that owns the cameras.
California: Traffic Camera Firm Shakes Down City

Aug 31, 2011 | TheNewspaper.com | Article
Excerpts:

As municipalities around the country increasingly have second thoughts about continuing red light camera programs, the private companies in charge of the photo ticketing are turning up the heat. Redflex Traffic Systems announced to its Australian shareholders last week that it continues to adjust contract language, boosting the penalties for cities that turn their back on photo ticketing. Just such language has hit in San Bernardino, California where rival photo ticketing firm American Traffic Solutions (ATS) is threatening to impose an extra $1,896,202 fee to punish the city council for attempting to get out of the contract in March. Officials had already approved cutting a check for $175,000 to the company as compensation.
Desperate Photo Enforcement Firms Sue Cities

Aug 6, 2011 | TheNewspaper.com | Article
Excerpts:

Companies that operate red light cameras and speed cameras are facing increasing opposition across the country. In response, the firms have adopted a strategy of suing cities that have second thoughts about continuing to use cameras in their community. They have also been going after their own customers to collect as much revenue as possible.
On December 1, Redflex filed suit against Tempe, Arizona in Maricopa county Superior Court claiming the city owed $1.3 million in per-ticket fees for each driver mailed a photo ticket who decided to go to traffic school. The city claims it only collected $1.8 million in revenue from the program, mostly because last year's payment rate was just 31 percent. Drivers realize in increasing numbers that tickets in the state can be ignored unless they are properly served.
Tennessee: Man Sues [Redflex] Over Double Billing

Jul 19, 2011 | TheNewspaper.com | Article
Excerpts:

On November 16, 2009, Church received a notice in the mail from Redflex claiming his car had run a red light in the town of Jonesborough. On the same day, Church mailed payment of the $88.75 fine. Redflex which cashed the check. On March 13, 2010, Redflex sent a second notice insisting that Church pay again or be reported to a collection agency. Church states he faced "coarse and abrupt opposition and accusation" when he called the company to resolve the situation. The next day, a Redflex employee told Church he was to be reported to a credit bureau for non-payment.
500 People Given Red Light Tickets Instead of Speed Camera Tickets

Jun 1, 2011 | KCAUTV.COM | Article
Excerpts:

The speed camera caught them driving too fast on the interstate, but due to a clerical error they were sent a red light camera ticket instead of a speeding ticket.
Judge rules Napa red-light cameras are illegal

Jun 1, 2011 | Napa Valley Register | Article
Excerpts:

Napa's red-light camera program, which has drawn the ire of thousands of motorists and the Napa County grand jury alike, is illegal, a Napa County Superior Court judge ruled Friday.
Diane Price, presiding judge of the Napa County Superior Court's Appellate Division, ruled that the 2008 contract between the city and Arizona-based Redflex violated state vehicular law.
Company's delay in posting red-light cameras irks city

May. 11, 2011 | Columbus Dispatch | Article
Excerpts:

More than a year after city officials signed a contract to double the number of red-light cameras watching over Columbus intersections, the devices have yet to be installed.
Safety officials say they're frustrated with the time it is taking Redflex Traffic Systems to select the remaining new camera locations from a list of 38 suggested by the city last summer.
Limbo continues for Jefferson Parish stop-light cameras

May. 2, 2011 | NOLA.com | Article
Excerpts:

As dozens of cameras atop white poles continue to stand dormant at intersections throughout Jefferson Parish, the court disputes about their legitimacy to ticket drivers running stop lights are quietly moving forward.
Two groups of drivers, whose cars were caught by the cameras, have filed dueling lawsuits against Jefferson Parish and the cameras' owner, Redflex Traffic Systems of Phoenix, Ariz., questioning the program's constitutionality. Meanwhile, Redflex is suing the parish for breach of contract after the Parish Council suspended the program more than a year ago and placed more than $20 million collected from fines in a escrow.
Photo Enforcement Companies Accuse One Another of Deception

Mar. 22, 2011 | TheNewspaper.com | Article
Excerpts:

The US Court of Appeals for the Ninth Circuit on Friday decided that photo enforcement vendors American Traffic Solutions (ATS) and Redflex were too much at odds with one another to participate in a court mediation program designed to settle tough cases. Each firm has filed suit questioning the integrity and ethics of the other. Redflex refers to "ATS' pattern and practice of consistent false representations." ATS, in turn, claims Redflex has been making "false and misleading statements of fact concerning its photographic traffic enforcement products and services."
Desperate Redflex Sues City of Tempe

Dec. 19, 2010 | CameraFraud.com | Article
Dec. 20, 2010 | AZFamily.com | Article
Excerpts (CameraFraud.com):

Redflex has filed a lawsuit in Maricopa County Superior Court against the City of Tempe seeking damages in excess of $1.3 million dollars. Their claim is that Tempe is profiting off all the defensive driving courses being sold to motorists in lieu of paying Redflex the fines.
Lawsuit targets [Redflex] red-light camera contracts

Dec. 4, 2010 | San Francisco Examiner | Article
Excerpts:

The residents of Daly City and Palo Alto have filed class-action lawsuits accusing red-light camera vendors of signing illegal contracts with several Peninsula cities and calling for the companies to reimburse those who were fined.
Redflex Failures Aplenty

Nov. 27, 2010 | CameraFraud.com | Article
Excerpts:

Lousiana – Redflex had been under investigation in Jefferson Parish by the FBI for more than a year over an alleged arrangement that put cash in the pocket of a Judge's wife and a lobbyist every time their scameras popped a motorist with an extortion ticket. Now another city, Zachary, LA, just north of Baton Rouge wants out of their contract with the Australian operation...
New Mexico - While accident rates are dropping nationwide, cities using Redflex surveillance ticketing are seeing an increase in collisions where it has been deployed. New Mexico Dept of Transportation studies have shown this to be true...
California: Class Action Lawsuit Hits Federal Court

Nov. 8, 2010 | TheNewspaper.com | Article
Excerpt:

The suit seeks a refund of every single ticket issued at those sixteen intersections between May 2003 and November 25, 2009. Last November, after losing on the warning issue in Orange County Superior Court court, the city finally decided to hold the required warning periods at every intersection. The class action suit names as defendants Santa Ana Police Chief Paul M. Waters, City Attorney Joseph W. Fletcher and Redflex Traffic Systems, the Australian company in charge of the ticketing program.
California: Class Action Lawsuit Hits Federal Court

Oct. 25, 2010 | TheNewspaper.com | Article
Excerpt:

A class action lawsuit against fifty-nine red light camera programs in the state of California will be heard before Judge William H. Alsup in the US District Court for the Northern District of California. Attorney Bruce L. Simon, who is suing Redflex Traffic Systems and American Traffic Solutions (ATS), moved Friday that the case return to the state court system. Simon argues that the contracts of Redflex and ATS with municipalities are illegal under California law.
Speed camera operator Redflex to settle with State Government

Oct. 19, 2010 | Herald Sun | Article
Excerpt:

REDFLEX has agreed to pay the State Government a six-figure sum as penalty for problems with the Hume Freeway speed cameras.
"The Department of Justice is in ongoing negotiations with Redflex over compensation for the fault in the point-to-point camera system on the Hume Highway," a department spokesman said.
Redflex Executive Salary Exceeds Shareholder Profit

Oct. 19, 2010 | TheNewspaper.com | Article
Excerpt:

Morale at Redflex Traffic Systems, the Australian photo enforcement company with more contracts in the United States than any other firm, has never been lower. Yesterday, the company faced the real possibility that the state government in Victoria, Australia would sue for the recovery of $15 million in citations issued by a faulty Redflex freeway speed camera system. Although the government currently refuses to issue refunds, it issued equally stern denials before giving in to public pressure by refunding $26 million worth of tickets over a high-profile accuracy failure in 2003.
The latest bad news comes as employees in the US office fear layoffs in the wake of the cancellation of the multimillion-dollar Arizona freeway photo radar program. Some workers at the company have privately expressed anger that, despite firm's precarious financial state, the head of US operations will receive a substantial raise. Shareholders are no more likely to be pleased to learn at the November 19 annual meeting that Karen Finley will be paid US$498,108 in a year when net profit for shareholders dropped 92.6 percent to a total of just $437,300.
Cops admit [Redflex] cameras flawed

Oct. 18, 2010 | Herald Sun | Article
Excerpt:

A TECHNICAL glitch has forced police to switch off all point-to-point speed cameras along the Hume Highway.
The embarrassing bungle has seen Victoria Police take unlawful action against drivers on at least nine occasions.
Tempe Man Files Massive Scamera Lawsuit – Redflex Named

Oct. 11, 2010 | CameraFraud.com | Article
Excerpt:

CameraFRAUD has been sent a copy of a RICO suit that names a large contingency in the scamera criminal enterprise in Arizona as defendants.
There are many more listed on the official document here. The plaintiff, Mr. Daniel Gutenkauf has filed the suit under the grounds that all named parties are acting as a criminal syndicate, committing extortion and fraud in order to profit from scamera tickets.
Red light cameras under fire in lawsuit against city

Oct. 1, 2010 | The Potpourri Tomball | Article
Excerpt:

A lawsuit filed in March 2009 against the city of Tomball regarding its use of red light cameras is still in the appeal stages over whether or not the city can even be sued.
The suit against the city claims all red light camera fees issued by the city are void or illegal, and asks a judge to order the city to refund fees to all violators. The suit is also against Redflex Traffic Systems.
South Dakota man wants suit against red-light camera operator Redflex

Sep. 21, 2010 | Sioux City Journal | Article
Excerpt:

SIOUX FALLS, S.D. (AP) - A Sioux Falls businessman wants the city and Redflex Traffic Systems to pay back the money collected through their red-light traffic cameras.
The cameras were shut down in June after Caldwell ruled that the city violates state law when it issues civil penalties for the criminal act of red light running.
California: Another Judge Discards Red Light Camera Evidence
*Not specifically a Redflex case
Aug. 19, 2010 | TheNewspaper.com | Article
Excerpt:

A San Diego, California Superior Court judge on Monday found elements of typical red light camera court evidence packages to be inadmissible hearsay. Eight consolidated cases were dismissed by Commissioner Karen A. Riley after she considered a motion to exclude evidence generated by automated ticketing vendor American Traffic Solutions (ATS). In light of the recent Melendez-Diaz v. Massachusetts ruling by the US Supreme Court (view ruling), Riley found the accused had a right to confront ATS witnesses.
Minneapolis Sues Redflex Over Camera Ticket Refund
Aug. 5, 2010 | TheNewspaper.com | Article |-| MinnPost.com | Article 2

Excerpt:

Minneapolis, Minnesota is angry enough at being forced to refund $2.6 million in red light camera tickets that it has filed a lawsuit against the private company it hired to issue those citations. The city last month filed a lawsuit in Hennepin County Court to recover damages, but Redflex Traffic Systems of Australia yesterday asked the US District Court for the District of Minnesota to take over the case.
"The constitutionality of the (city) ordinance was challenged and the Minnesota Supreme Court held it was pre-empted by state law," Minneapolis City Attorney Susan L. Segal wrote in a brief to the county court. "As a result of that challenge, the city incurred substantial losses."
Audit of Chillicothe reveals only one irregularity
Jul. 28, 2010 | Chillicothe Gazette | Article

Excerpt:

Although red-light cameras no longer are operating in the city, the management letter found some issues with the way Reflex Inc. had been collecting traffic fines on behalf of the city of Chillicothe. According to the letter, Redflex did not have an audit explaining its policies and procedures. The letter said the city had no assurance the traffic fines being processed were being done accurately.
Arizona, Australia: Bogus Camera Tickets Issued, Refunded
Jul. 24, 2010 | TheNewspaper.com | Article

Excerpt:
In Arizona, officials have no problem with the inaccurate output provided by the speed cameras. State law require that tickets be issued to the driver of the vehicle, not simply mailed to the the first name on the vehicle registration, as is the case in many other states. The law requires positive identification based on a comparison of a driver's license photo and the image generated by a photo radar unit. The group CameraFraud produced a ticket that Redflex Traffic Systems had mailed from the recently canceled statewide freeway camera project. The driver of a white Chevy Silverado pickup truck can barely be seen as sun glare reflects off of the vehicle's dirty windshield, yet Redflex mailed the ticket without making the required positive identification.
Tensions between Jefferson Parish and stoplight camera company arrive in court
Jul. 1, 2010 | NOLA.com | Article

Excerpt:
A three-month standoff between Jefferson Parish and Redflex Traffic Systems, Inc., landed in court Thursday when the company sued the parish to restart its inert stoplight cameras and release to the firm its share of traffic fines generated by the cameras.
Redflex, DPS Ignore Arizona Sign Laws
May. 16, 2010 | CameraFraud.com | Article

Excerpt:

Redflex and DPS have never paid a lot of attention to the laws that regulate photo enforcement on our state's highways, and that was evident again this week on the Westbound Loop 101 at Scottsdale Rd. CameraFraud has documented over 5 violations so far.
Page 582 of the latest MUTCD (Dec 2009) specifies that temporary signs such as the signs used at mobile speed vans must be at least 1 foot from the ground. Clearly, the sign in the photo is touching the ground.
Arizona: Judge Slams Redflex On Eve Of Court Case
May. 11, 2010 | TheNewspaper.com | Article

Excerpt:

A federal judge on Thursday sharply criticized the legal filings of an Australian photo enforcement vendor less than two weeks before a jury trial was scheduled to begin. Redflex Traffic Systems is being sued by its Arizona-based rival, American Traffic Solutions (ATS), on the grounds that the Melbourne-based firm won the recently canceled statewide speed camera contract with the Arizona Department of Public Safety (DPS) by allegedly lying about the certification of its equipment. If it loses, Redflex could be forced to pay its rival millions in potential damages for lost business. Already, the company's overall legal defense bill has reached $6.2 million for the past year.
Jonesborough man files suit over red-light camera ticket dispute
May. 5, 2010 | TriCities.com | Article

Excerpt:

A Jonesborough man who says he is being double billed for a red-light camera speeding ticket his wife received is suing the town of Jonesborough and the company who maintains the cameras.
Church is now filing a lawsuit against Jonesborough and Redflex for $24,000 in compensation.
Lawsuit targets Knoxville red-light camera system
Apr. 27, 2010 | KnoxNews.com | Article

Excerpt:

KNOXVILLE -- Four Knoxvillians are suing the city of Knoxville and Redflex Traffic Systems Inc., a former operator of the city's red-light camera system, contending that the program from 2005 to 2008 was contrary to the Tennessee Constitution.
Woman Gets Red Light Camera Ticket, But Car Is Not Hers
Apr. 26, 2010 | KFOXTV.com | Article

Excerpt:

EL PASO, Texas -- When Gracie Goetz opened her mail on Saturday, she said she got an ugly surprise.
"I got this official-looking scary thing that looked like I was in trouble," Goetz told KFOX on the phone.
She lives in Austin, but somehow got a red light camera ticket in El Paso, even though she said she never drove her car in the Borderland.
Motorist Proves Calibration Firm Doesn't Exist
Feb. 23, 2010 | Herald Sun | Article


Note: We understand that Redflex runs the photo enforcement program in Victoria. It is unclear who prepared the documents showing where the equipment was calibrated.
Excerpt:
The costs were awarded last July after the Office of Public Prosecutions withdrew charges against Mr King over a speeding ticket.
He and Mr Salger proved E and E Testing Laboratories, the company named on official documents as having calibrated a camera in Nth Balwyn, did not exist.
Police Toss Some Red Light Camera Tickets
2-21-10 | GalvestonDailyNews.com | Article
Excerpt: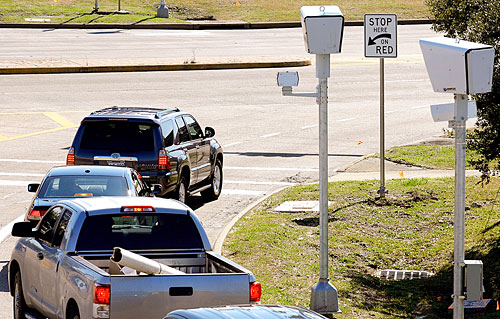 But Jessica Hernandez, 28, of Pearland, has some issues with the program. The League City Police Department sent her a citation for running a red light going east at the intersection of I-45 and FM 518 on Jan. 1 at 8:38 a.m.
"I was sleeping at the time," Hernandez said.
"And nobody was driving my car; my husband was at work," she said. "My car was with me that morning."
Feds Looking into Jefferson Parish Traffic Cameras
2-20-10 | FOX 8 Live | Article
Excerpt: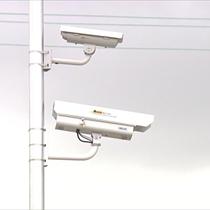 A source tells Fox 8 News that federal investigators are looking into
the red light camera program in Jefferson Parish and Interim Parish
President Steve Theriot confirms the feds do have the documents.
The parish recently suspended the contract after finding out an
insurance agent involved in the west Jeff hospital scandal is also set
to make money on the camera deal. Interim Parish President Steve Theriot
asked Redflex Traffic Systems a series of questions to get more
information on who's making money on the deal. The company promised to
have answers for Theriot within a day. That was nearly two weeks ago and
there's still no word.

Redflex Driver Crosses Gore, Runs Stop Sign
9-10-09 | CameraFraud.com | Article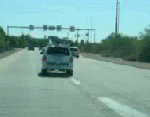 Excerpt:
A driver for beleaguered Redflex Group found himself at the other end of the camera this past Thursday when a motorist videotaped him committing multiple moving violations on the Loop 101 westbound near 35th Avenue.
California Judge Declares Red Light Camera Program Illegal and Void
8-11-09 | TheNewspaper.com | Article
Excerpt:
A California judge last week began throwing out red light camera citations issued in Santa Ana. Orange County Superior Court Commissioner Kenneth Schwartz declared the city's program void because it had ignored several provisions of state law. Local attorneys Mark D. Sutherland and R. Allen Baylis had challenged the city for its failure to provide the required thirty-day warning period before beginning the program and its use of a prohibited per-ticket "cost neutral" compensation scheme.

Heath (Ohio) Speed Cameras Issuing False Triggers on Motorcycles
8-06-09 | NewarkAdvocate.com | Article
Excerpt:
It turns out, he's not the only one; apparently, motorcycles have been tripping the light fantastically often in the last few weeks, and nobody seems to know exactly why.
Redflex hasn't been able to explain why motorcycles are getting triggered, but it doesn't happen every time, Shepherd said.

Livingston Parish Dismisses Nearly 2,500 Tickets From Speed Van
3-19-09 | BusinessReport.com | Article
Excerpt:
The Livingston Parish Sheriff's Office has ordered the contractor that operates the parish's speed van to dismiss 2,488 speeding tickets issued to drivers on Interstate 12, says Perry Rushing, chief operations officer for the sheriff's office.
All of the tickets were issued in late January and early February near mile marker 15, Rushing said, where the speed limit drops from 70 mph to 60 mph. After receiving several complaints from ticketed drivers, the sheriff's office reviewed all of the tickets issued during the first nine days the van was in service and determined the van operator had set up too close to the speed-zone change.
Redflex Performing Engineering Services Without Proper Licensing
Feb-2008 | North Carolina Board of Examiners for Engineers and Surveyors | Publication (Page 8 & Page 9)
CASE NO. V03-058
Redflex Traffic Systems, Inc., unlicensed
Culver City, CA

VIOLATION: Practiced or offered to practice engineering in violation of G.S. 89C-24 and 55B.
BOARD ACTION: Issued letter to cause respondent to cease and desist offering or practicing engineering in NC until licensed with the Board. The services provided by the company that require engineering education, training or experience in order to properly perform and protect the public are within the definition of engineering in G.S. 89C, to include the disciplines of traffic, structural and electrical engineering whether by analysis and recommendation in reports or by the production of design/construction drawings. Subcontracting all engineering to properly licensed firms is acceptable with full disclosure to clients and in all marketing materials, to include the website (combined with Case No. V04-091).
Driver of Photo-Radar Van Arrested for DUI
9-09-08 | AZCentral.com | Article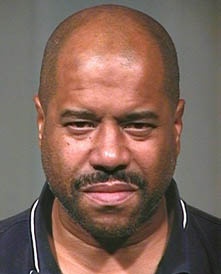 Excerpt:
SCOTTSDALE - Police arrested the driver of a Redflex photo radar van on suspicion of DUI.
Roderick M. Ruffin, 53, had a blood alcohol content over 0.15 on Saturday while he was driving to Tempe to set up the van, police and company officials said. The legal limit is 0.08, and Ruffin's blood alcohol level is considered an extreme DUI.
Lawsuit Challenges Photo Radar Citations
9-05-08 | KPHO.com | Article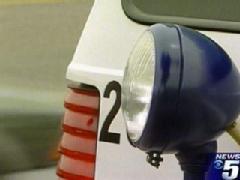 Excerpt:
Legal papers contend the citations issued by Redflex Traffic Systems before the first week in August are illegal, the newspaper reported.
The lawsuit, filed late last month in Maricopa County Superior Court, alleges the company was using radar guns that had not been cleared for use, according to the East Valley Tribune.
Arizona Official Confirms Redflex Falsified Speed Camera Documents
07-09-08 | TheNewspaper.com | Article

Excerpt:
Arizona Secretary of State Jan Brewer last week confirmed that documents used to convict motorists of speeding in Lafayette, Louisiana contained elements that had been falsified. Brewer revoked the license of Cheryl Krough, notary public for photo enforcement vendor Redflex after concluding that she violated four Arizona laws while purporting to certify a speed camera deployment form for use in official hearings.